---
Hydrogeology,Water Resources, Biogeochemistry,
Wetland and Watershed Analysis
Geology Department


Bowers Hall, Room 341


Voice: (607) 753-2924


Department: (607) 753-2815


Fax: (607) 753-2927


cirmoc@cortland.edu


"Is this what you mean? That the river is everywhere at the same time, at the source and at the mouth, at the
waterfall, at the ferry, at the current, in the ocean and in the mountains, everywhere...?" Hermann Hesse - Siddhartha
---
Research Interests:
(Click here for Description of Current Projects)
Current work centers on analysis of the functional and geomorphological role of wetlands within the watershed context, with active grant activity and student-centered field work in the Adirondack and Catskill Mountains of New York. As part of the Arbutus Experimental Watershed study in the Central Adirondacks, we are cooperating with SUNYESF and Penn State University on work focused on wetland stratigraphy, geophysical characterization of paleodeposition in wetland valleys, and the role of wetlands in altering the nitrogen signature of stream and lake water. Work in the Cortland area includes evaluation of the function of nearby wetlands in glacial moraine settings, and the establishment of an Upper Susquehanna River Basin observational watershed site at the College's Hoxie Gorge Field Station.

Students are a critical component in all my projects!
---
Courses Taught: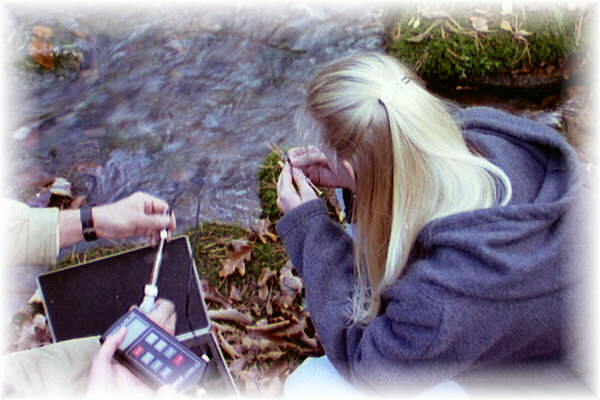 ENS 486 - Environmental Science Seminar

Field Hydrology (summer)
---
Recent Projects: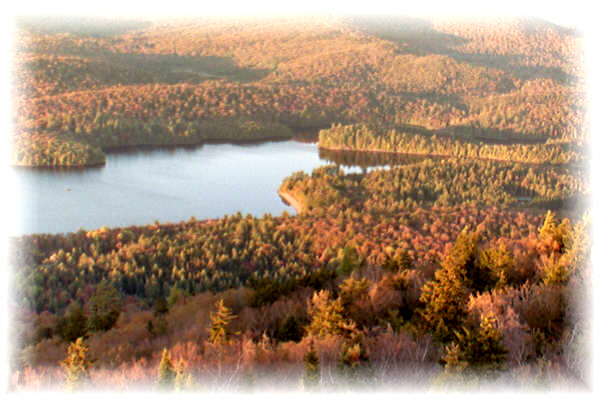 Nitrogen Sources and Sinks in an Adirondack Watershed (USDA) - $125,000; 1995-98
Watershed Education and Research at SUNY Cortland: Development of a Summer Field Hydrology Course (SUNY Cortland PDQWL Committee) - $712; 1998-99

Development of a Concentration in Water Resources at SUNY Cortland (SUNY Cortland) - $1000; 1998-99

Assistant Program Director Fellowship, National Science Foundation Program in Hydrologic Sciences; - $15,000; summer 1998

Geologic and Geographic Characterization of the Malloryville Wetland Complex, Tompkins County, NY - $5000 - 1998-2000

Nitrate Dynamics in the Hoxie Gorge Creek During Baseflow and Storm Events - (Summer Research Fellowship) - $4000; 1999

Temporal and Spatial Trends in Concentration/Discharge (C/Q) Hysteresis in Eastern Streams (Faculty Research Grant) - $2516

Hydrologic Control of Nitrogen Transport at Hydrogeomorphic Interfaces in a Forested Watershed (USDA) - $100,000; 1999-2002

Investigations of East-of-Hudson Wetland/Watershed Interactions in the New York City Water Supply - $2000; 1999-01

Topographic Linkages Between Nitrogen and Organic Carbon Solutes within a Forested Watershed (NSF Program in Ecological Studies)- $543,000; 2000-2003; Co-PI with 5 others.

Development of Sentinel Wetland Reference Sites for the Catskill/Delaware Watershed of the New York City Water Supply (NYC Department of Environmental Protection and USEPA) - $95,000; 2003-2006
Assessing an HGM-based Wetland Classification Along a 1000 km Gradient of the Appalachian Mountains: (Link)- $128,383; 2003-2006
China Beijing Normal University - SUNY Cortland Development Project: Woriking with Jianming Hong of the Beijing Center for Environmental Science, and the Beijing Wetland Center. Article in ICRSME Journal. $1000.

2007-2008

Assessment of Natural Resource Condition at Three National Parks in the Northeast Region: ROVA, SARA AND MORR.

Co-PI with Penn State University and the University of Georgia.

$125,000. 2009-2012.


SUNY Global Workforce Initiative. SUNY Research Foundation and the Levin Institute. With 10 Co-PIs.

2009. $100,000. (under review)


---
Recent Publications:
Cirmo, C.P. and J.J. McDonnell. 1998. Linking the hydrologic and biogeochemical controls of nitrogen transport in near-stream zones of temperate-forested catchments: a review. Journal of Hydrology 199:88-120.
Cirmo, C.P. 1998. Linkages Between Hydrology and Nitrogen Biogeochemistry in Riparian Wetlands. In: Ecology of Wetlands and Associated Systems, Majumdar, S.K., E.W. Miller and F.J. Brenner (eds.). The Pennsylvania Academy of Science, pp. 144-168.
McHale, M.R., M.J. Mitchell, J.J. McDonnell and C.P. Cirmo. 2000. Nitrogen solutes in an Adirondack Forested Watershed: importance of dissolve organic nitrogen. Biogeochemistry 48:165-184.
Cirmo, C.P., C.T. Driscoll and K.M. Bowes. 2000. Chemical fluxes from wetland sediments in the Adirondacks: effects of an acid neutralization experiment. Soil Science Society of America Journal 64:790-799.
McHale, M.R., J.J. McDonnell, M.T. Mitchell and C.P. Cirmo. 2002. A field-based study of soil water and groundwater nitrate release in an Adirondack forested watershed. Water Resources Research 38(4):10.1029/2000WR000102.
McHale, M.R.,C.P. Cirmo, M.J. Mitchell and J.J. McDonnell. 2004. Wetland nitrogen dynamics in an Adirondack forested watershed. Hydrologic Processes 18:1853-1870.
Cirmo, C.P. 2006. Wetland Hydrological, Biogeochemical Research at the HWF.

The Spruce Moose. Quarterly Publication of the Huntington Wildlife Forest

,

SUNY College

of Environmental Science and Forestry.

Cole,A.C,

C.P.Cirmo,

D.H. Wardrop, R.P. Brooks and J.Peterson-Smith. 2008. Transferability of an HGM wetland classification scheme to a longitudinal gradient of the central Appalachian Mountains: Initial hydrological results. Wetlands 28(2): 439-449.
Peterson-Smith, J., D.H. Wardrop, C.A. Cole,

C.P. Cirmo

and R.P. Brooks. 2008. Hydrogeomorphology, environment, and vegetation associations across a latitudinal gradient in highland wetlands of the northeastern USA. Plant Ecology DOI 10.1007/s11258-008-9523-x.

Cirmo, C.P. 2009. Adirondack Hydrology: Water as a Unique Adirondack Aquascape. In: Light from an Adirondack

Prism: The Great Experiment in Conservation. Syracuse University Press. (in-press)

Cirmo, C.P. 2009. Soil Stratigraphy in Wetlands of the Adirondack Mountains of New York (USA). Soil Science Society of America Journal (in-review)

Cirmo, C.P.

and G.P. Tooker. Scientific Inquiry in Elementary and High School Classrooms in China: Two Examples. 2009. International Consortium for Research in Science and Mathematics Education. ICRSME Journal (in-review).

---
Contact me at: chris.cirmo@cortland.edu

Last modified: April 2009