Jean LeLoup & Bob Ponterio
SUNY Cortland
© 2011, 17
FTP- File Transfer Protocol
---
Moving files to your web space
Moving files from one computer to another over the Internet is accomplished through FTP (File Transfer Protocol). Remember that accessing web pages is done through HTTP (HyperText Transfer Protocol). So HTTP will show you a web page in your web browser, and FTP will let you send files back and forth between computers. In like manner SMTP (Simple Mail Transfer Protocol) does email, and FPTP (French Pastry Transfer Protocol) lets you eat cream puffs that are actually located on the other side of the Earth (What? You don't have this one on your computer yet?

)
We will look at three ways to upload your web page to your web server space (AKA publishing). All three methods use FTP behind the scenes to make the transfer.
---
FTP software
There are lots of FTP (File Transfer Protocol) programs available, many free; you might want to try out a few to find the one you like best, but we really like FileZilla. You can find free software for FTP such as FileZilla (available in our lab), FTP Commander, FTP Navigator, Coffee Cup Free FTP, Cute FTP Home.
Remember that a web page is made up of not only the HTML file that you have made but also any files that you have included in your page (images, sounds, etc.). To transfer a page, you have to transfer all of its associated files. By keeping each project in its own folder, we will make it easier to manage your site by moving or copying the entire folder at once.
In our lab we are using the free software FileZilla (you can easily download this an install it at home for free). Here we can connect to the account of a student, John Smith, with the Usernane that should be the same as his email login: john.smith. The Host (or server) is studentweb.cortland.edu to put a web page at the address http://studentweb.cortland.edu/john.smith/mini2/index.html

The Host, Username, and Password are all that are needed to connect to the web space.

The Host Name is the name (address) of the computer where the server is located. In this case studentweb.cortland.edu.

The User Name or User ID should be the same as your email login: firstname.lastname. So for this student, the FTP login name is john.smith (but only if your real name is John Smith).

The Password is the password that you have chosen for your account.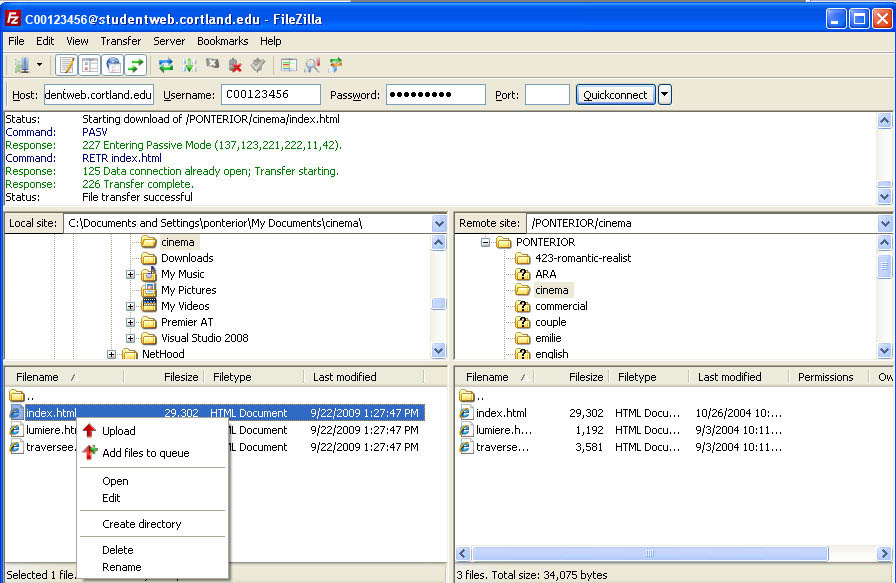 Once connected, you can browse and copy files or folders from the local site on the left (your computer) to the remote site on the right (your online web space). Your files will be copied to your new folder and will be accessible using your URL or web address.
The software makes it easy to do all of these things. You can use the Site Manager to set up connections for many different web sites that you might wish to edit. You can have the software remember your login on your home computer.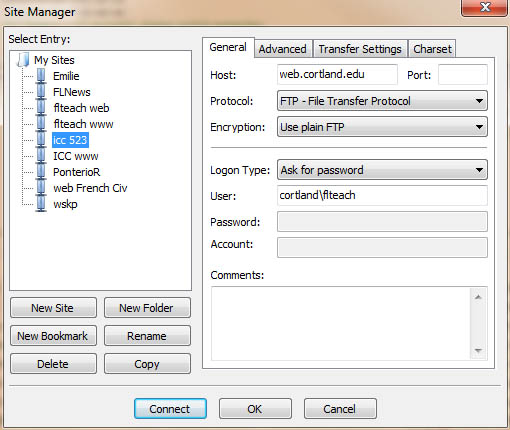 For each site that you own, you can also have the software automatically remember the local and remote folders for the projects so you don't have to hunt for them each time you connect.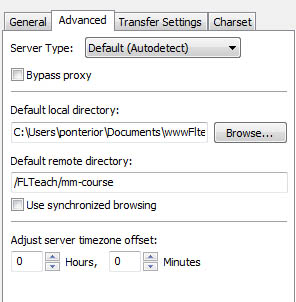 ---
Publishing from your Web Page Editor
Many web page editing programs such as Dreamweaver and KompoZer can publish your web page from right within the editor. They will need the information about the web server address where your web space is located and your account log-in information to make the FTP connection. This is exactly the same information that we described above. These programs basically have FTP software built-in and can do quite a bit to help keep the online version of your web site in sync with the local version that you are editing. Never save the login information for your accounts on a public computer!
As you have learned, you will always keep your entire web site in a folder on your hard drive, perhaps even in folders within folders. But each project should be be entirely located within its own folder so that you can move your project around simply by moving this folder. Be careful never to copy your folder into itself (either on your computer or on your web space) or you may end up with the digital equivalent of a "temporal paradox" reminiscent of the old Star Trek series!!!!

---
Saving a local copy
In the Ye Olden Days, you could save the project folder to a floppy disk (they were very small, only 1.4 MB of data). They were are notoriously unreliable and slow. Yuck!
Nobody uses them any more. If you are using floppies, you are probably also writing in cuneiform!
The best backup / trasnsfer solutions at the moment are to use your USB Flash Drive or Google Drive or Microsoft OneDrive (Dropbox, iCloud or any cloud space) while you are working on a page and keep it in sync with a version on your hard drive. Flash drives are inexpensive, fast, and look just like another hard drive or folder. Newer computers are now using USB 3.0 which is about 10 time faster than USB 2.0. You might also have USB 3.1 which is twice as fast as 3.0 (the plug might also be Type-A, Type-B or Type-C - just plug it in where it fits).

Before unplugging your USB Flash drive, be sure to use the Safely Remove Hardware icon to stop the drive (shut it down). This prevents accidentally unplugging it while it is trying to transfer some data.
---
Do it on your phone!
You might even use your cell phone to set up a wireless transfer via an app such as AirDroid (for Android), login http://web.airdroid.com/. Similar apps exist for iPhone but I haven't tried them so can't recommend one.
---
How to use FTP - wikihow
FTP Tutorial : HelpQuest
How to Design and Publish your Website with KompoZer
Saving Files and Publishing in KompoZer
Adobe Dreamweaver Tutorials
Managing your Websites with Dreamweaver
Introducing Site Management - Dreamweaver CS5: The Missing Manual
Adobe Dreamweaver Support Center

---