Jean LeLoup & Bob Ponterio
SUNY Cortland
© 2017
PowerPoint (Office 2007)
PowerPoint is very versatile and interesting presentation software that is widely available. You can create very sophisticated projects to make presentations on computer screens, overhead projectors, slides, etc. As you work with this software, think about how it serves the needs of communication. How interactive is it? How you could incorporate this tool into your classroom?

One caveat; PowerPoint, like most presentation software, was designed for business presentations, not for education. Beware of the tendency to make very linear presentations in which students remain passive and do not manipulate information. Consider what the computer can really add to the lesson; do not use technology to do what can be better done without the technology. Do the typical default slide layouts provided really meet the needs of Second Language pedagogy? IOW Don't lose track of your goal!
---
Getting started
Find the PowerPoint icon on the Start menu or desktop and launch the program.

(Although our examples use PowerPoint 2007, later versions are not very different.)
---
Choosing a presentation mode
When you create a new PowerPoint presentation, you will get a dialog box that will ask you if you wish to use the format of a blank presentation, one of your own previous presentations, various installed presentation template models, or a number of available models online:


Choosing from these Templates skips this preliminary planning step and gets you immediately into choices of presentation design and mode. Select a Template allows you to begin with a complete presentation design including background for your slides (or start from scratch). You can preview all of these before choosing.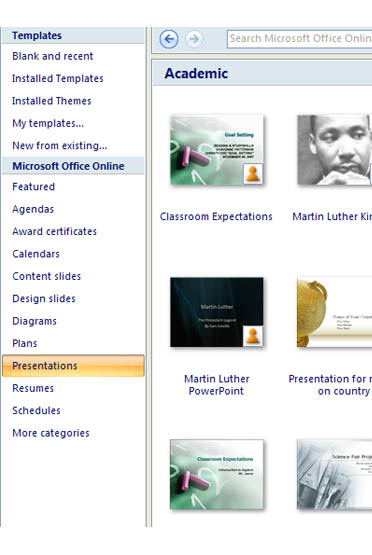 Blank presentation
If you choose to begin with a Blank presentation, you can select your own layout design for your presentation and for individual slides. You can preview all of these before choosing them.

Choosing from these slide layouts can make it easy to add content to your slides. You can also modify these layouts after you insert them.
---
Other aids and special effects in PowerPoint
Toolbars
Toolbars allow you to organize the commands in PowerPoint the way you want so you can find and use them quickly. Clicking on the menu options will reveal the commands and actions possible under a given menu.

For example, the Home menu offers many options that you will want to investigate, such as inserting slides, layouts, and shapes, editing or aligning text, controlling fonts, etc.

The Insert menu helps you insert tables, pictures, clip art, charts, links, objects of all sorts including movies, sounds, etc.
Special effects
In addition to inserting sound, pictures, graphics, videos, and the like into your PowerPoint presentation, you can also create other special effects to enhance your project. You can create Transitions between slides (e.g., dissolve, fly in or out, blinds, boxes, etc.). You can also include preset and custom Animation Settings for graphics and text on your slides. You can even Hide Slides in your presentation. All of these options are located under Animations and Slide Show on the main menu bar. Remember that cute animations look cute the first time but can quickly become annoying for the user.
---
First things first . . .
PowerPoint has many options, and you will discover them by experimenting as you create your initial sample presentations. You do not have to be fancy or complicated at first. Go ahead and begin to use PowerPoint and see what it is capable of doing. Take small steps:


For starters, try creating a 4-5 slide presentation with just text.
Then add some graphics, sound, and branching among the slides.
Enjoy!

Using PowerPoint for ESL Teaching

PowerPoint Presentations for Spanish Class!!

And some French PowerPoints by Sandra Howard:
http://madame300.wikispaces.com/
---
PowerPoint and Sound
Adding Sound to PowerPoint
Playing MP3 Files during a slide show


PowerPoint 2007 Tutorial 3.2. Adding Sound and Video (Youtube)

Microsoft PowerPoint 2016 - Full Tutorial for Beginners [ 14 MINUTES! ]*
PowerPoint Tutorial: Learn PowerPoint in 30 Minutes - Video

Learn How to Use PowerPoint 2007 (basics for beginners - for 2007 but mostly works for later versions as well)

echosvoice tutorials (lots of different tutorials)

PowerPoint was originally made for boring, page by page, business presentations. Be careful to avoid the negative aspects of PowerPoint.

Edward Tufts, author of The Cognitive Style of PowerPoint. One of my favorite pieces by him is:
PowerPoint Is Evil - http://www.wired.com/wired/archive/11.09/ppt2.html
---
Return to Syllabus