VC-9 Roster for April 15, 1954 to September 15, 1954 deployment
The nucleus of these lists was a set of written orders to Kenneth Wooster. Additions were made from the collective memories of John Bacon, Herman Ford, O. W. McGuire, Martin Manger and Kenneth Wooster. Still more information was obtained from O. W. McGuire, Ben King and John Bailey at the Vigi 2003 reunion in Sanford, Florida. Still others have contributed along the way, and I look forward to hearing from more. The roster of officers is probably complete. Obviously, the list of enlisted men is not. There were more than two hundred enlisted personnel.
Officers
John Bacon, ENS, USNR (asst maint off)
Craig M. Bramley, LTJG, USNR (flight line division officer?)
Ralph Brown, LCDR (ordnance officer) (This name was added 12 October 2005.)
Raymond F. Compton, CDR, USN 099611(?) (XO)
Ernie H. Carson, LTJG, USNR
Walter C. Clapp, LT, USN, 337242/1310
Ralph Cox, LTJG, USNR
Joe E. Dyar, LCDR, USN (personnel? off)
David Ellis, LTJG, USNR (asst pers off)
Herman Ford, LTJG, USNR
Frank G. Gooding, Jr, CDR USN (CO)
Bob Heid, LT, USN (LSO and P2V pilot)
William J. Laub, Jr., LTJG, USNR (asst intel off)
Dave(?) Ludwig, LT, USN (LSO and P2V pilot)
Ralph M. McBrien, LT, USNR
Orville Wendell McGuire, ENS, USNR 555694/1355
Alec(?) MacInnis, CDR(?), USN
Martin M. Manger, Jr., LT, USN 402757/1310
Coleman Everett Meyers, ENS, USNR 555745/1355
Billy Ray Morrow, LT
Vernon Redfield, LCDR, USN (electronics ?)
Augustine W. "Gus" Smith, LCDR
Jack V. Stumpf, ENS, USNR 404822/1355 (asst maint for radar/electronics)
Randolph Lee Rhodes, ENS, USNR 569378/1355
"Spider" Webb, LCDR(?) (Maintenance Officer)
Boyd Weber, LCDR, USN (Operations Officer)
Jack Weidner, LT (Air Intelligence and Public Information Officer)
Garrett "A" White, Jr., LT, USN 402782/1310
Ed Winter, LCDR, USN (maint?)
Kenneth Wooster, ENS, USNR 553896/1355 (educ off)
Flight Crews
1. Gooding/ Ellis/ Bailey
2. Compton/ McBrien/ Ricker
3. MacInnis/ Cox/ Sholtz
4. Webb/ Morrow/ Bryant(?)
5. Winter/ Ford/ Robbins
6. Weber/ McGuire/ Holbrook
7. Dyar/ Carson/ ?????
8. Smith/ Bramley/ Pruden
9. Clapp/ Meyers/ ?????
10. White/ Wooster/ Montecalvo
11. Manger/ Rhodes/ Bryant(?)
N.B. I previously had crews #7 and #8 interchanged, but I have adopted this new ordering after hearing from John "Bean" Bacon in April 2005.
Enlisted
Duane E. Augdahl, 427 21 98, YN3, USN
H. L. Arnott, AMC
John Bailey, AD1 (A plank owner. He had orders in November 1952 to come to Sanford from Patuxent River with Frank Gooding in preparation for commissioning the squadron on 15 January 1953.)
Tom C. Bryant, 347 96 44, AD2, USN
Edward L. Drebert, 250 42 30, FCC, USN
______ Dubois, a chief who worked for K. Wooster in the Education Office
J. C. Holbrook, AL1
Robert Kilgore, AT1
William E. King, BMC
Jack (n) Koch, 843 94 14, AD2, USN
"Slick" Mahaney
Bill Malizoski, ATC
James A.(Jim) Miller, 303 60 10, AD2 (Plane Captain on P2V. Returned to States during deployment for discharge.)
Michael A. Montecalvo, 416 06 77, AT3, USN
Robert A. Norwood, 262 50 82, AOC, USN
Stanley (n) Pochordo, 726 56 14, AD1, USN
Neil Pruden, ALC
Charles O. Reichl, 550 73 91, AD3, USN-U1
Lloyd A. "Pappy" Ricker, 300 29 11
"Robbie" Robbins
Harry Sholtz, AO1 (later transferred to US Air Force)
Jack T. Siebeck, 304 07 63, ADAN, USN-1
Ignatius A. Signorelli, AT1
Boyd Q. Smith, 321 53 19, AECA, USN
Denny J. Stout, 426 78 74, TE2, USN
Kirby P. Sutton, YN1, USN (Worked in Administration Office. Added 15 October 2005.)
John A. Swanson, 345 66 55, AD3 (plankowner and designer of the Hoot Owl Badge. Name added July 2004)
William Thee, PN3 (Worked in Education Office)
John Thomas, AK3 (Plankowner. Worked first in supply and then in Operations. Added 23 October 2005)
Lowell Ulrich, AD2
Johnnie R. Whisnant, 262 83 29, AT2, USN
The VC-9 Logo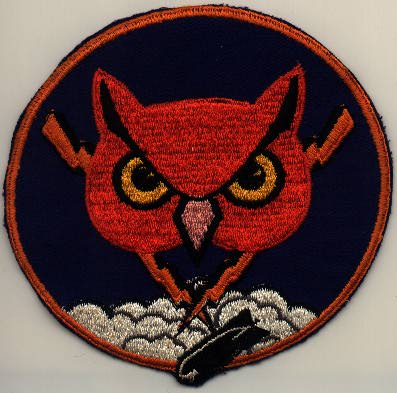 Click on image for larger view.
The logo was designed by John A. Swanson, AD3, who was the winner of the contest conceived in the late summer or early fall of 1953 by the Air Intelligence and Public Information Officer, LT Weidner, and his assistant LTJG Laub. The evidence to support this claim was presented to me by John Swanson's daughter, Laura Radmer. After John's death in December 2003, Laura applied for his records, and in the records were copies of two letters written by LT Bill Thomas – who replaced LT Weidner – which identify Swanson's role as the designer of the logo. I present here the major portion of Laura's second email to me:
John A. Swanson Ser. # 345 66 55
Entry: April 1951 K.C., Mo.
Sep: July 1954 Bethesda, Md.
Grade/ Rate/ Rank AD3 May 1953
Ser. Schools: Airman School (class P ) Jacksonville, Fl.
Aviation Machinist's Mate School (class A) Memphis
Cert. for: Aviation Mach. Mate Third Class 1953
Most Sign. Duty Assign: NAS, Sanford, Fl (VC-9)
Cert. for: PLANK OWNER ....one plank of Hangar Four wherein VC-9 was commissioned... dated Jan. 15, 1953
. . .
I have 2 letters from a W.J. Thomas, Lt. USNR, PIO, to Dad about the design. One is on United States Atlantic Fleet Heavy Attack Squadron Nine letterhead, dated Nov. 25, 1955 asking Dad for an address so his Savings Bond (in relation to patch design) can be sent. The other letter, is handwritten while in Athens, May 4, 1956, again from WJ Thomas, assuming that dad has..."received the bond which you won for your squadron insignia design." This letter then talks about places they have been.. Cannes, Valencia, Gib, Naples San Remo, Crete...It mentions other "mates", Schuler, Maliczowski being made LDO, John Bailey making Ensign, Barbuzzi taking the AD3.... The X-mas eve accident in the Azores. Morrow, Bramley, Rhodes. Talks about VC 8 being split into VAH 1 and VAH 11.
In an earlier email Laura told me that her father had been hospitalized with a kidney problem. It appears as though he was hospitalized while we were in Port Lyautey, returned to CONUS, and then separated from the service, perhaps with a medical release.
Because Laura thought that her father was a "radioman," I wonder if he might have been a Third Crewman.
Additional personnel, before and after the 1954 deployment
Before
Oscar "Oc" Chenoweth CDR USN was XO, but he left in 1954, very shortly before our departure for Morocco. As I recall, he was disenchanted with the Navy for some reason and resigned in order to go in business in Puerto Rico with his brother-in-law or father-in-law.
George E. Broach, LCDR USN(?) was Administrative Officer but left in late 1953 or early 1954.
William G. "Bill" Boyd, 333-62-70, ADEAN, was in the squadron in Sanford in 1953. Because he was a short-timer scheduled to be released in July 1954, he did not go to Port Lyautey with us. He now resides in Brentwood, TN (suburb of Nashville).
After
William Lemos replaced Frank Gooding as CO almost immediately after the deployment.
Bill Hazlett replaced Ray Compton as XO.
Paul Grunder, ENS (probably 1355) joined sqdrn as B/N.
Leon Foley, ENS (probably 1355) joined sqdrn as B/N.
Ben King, ENS (a naval aviator) joined sqdrn as B/N in November 1954.
"Bill" W. J. Thomas, LT joined squadron as AIO and PIO as replacement for Jack Weidner
David Todd, ENS (a naval aviator) joined sqdrn as B/N.
White, Wooster and Reichl left for VC-5 mid-November, 1954.
Upon returning to Sanford in 1954 Lowell Ulrich took special weapons training and became a third crewman. His pilot was Lt. Hal Jacobs. He flew as third crewman for a year or more, and a few months before being deployed to Port Lyautey he quit flying as third crewman. He was replaced by Greek, who was killed in the Azores crash on Christmas Day, 1955.

---
woosterk@cortland.edu
© Kenneth Jennings Wooster
All rights are reserved.
File created: ??
File modified: June 13, 1998; December 26, 2002; July 27, 2003; April 17, 2004; July 28, 2004; June 12, 2005; June 25, 2005; June 26, 2005; September 2, 2005; October 9, 2005; October 12, 2005; October 15, 2005; October 23, 2005; April 19, 2006; May 9, 2006.