Mineralogy (GLY 301)
Fall 2009
Dr. Robert S. Darling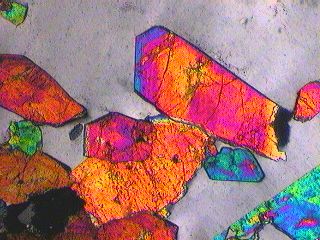 Epidote in thin section surrounded by quartz, Cannivan Gulch, Montana
You will find on this page information, materials, and other resources to accompany the course. This site may be updated throughout the semester, so please check back often.

Mineralogy is an upper division Geology course designed for majors in Geology (GLY; GLY-E), and Adolescence Education--Earth Science (AES). Students enrolled in this course will be exposed to basic principles in the study of solid state materials of Earth's crust. The topics covered are listed in the course syllabus (see below), but special effort is made to emphasize those aspects of mineralogy which directly apply to the interpretation of rocks and Earth's history.
Instructor
General Course Information
The final exam is scheduled for Thursday, December 17th, 10:30am -12:30pm.



Required Texts:



Simons and Schusters Guide to Rocks and Minerals


Perkins, D., and Henke, K.R., 2004, Minerals in Thin Section, 2nd edition, Prentice Hall.
Required Supplies:



box of colored pencils.


geologist's hand lens.
Mineralogy Links