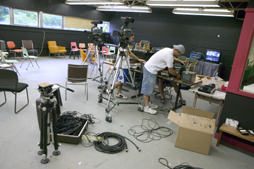 The Communication Studies Department currently maintains three dedicated studios in the Dowd Fine Arts Center.

The new communication media studio provides high-end workstations capable of performing a variety of advanced tasks including 3-D animation, audio editing, video postproduction and multimedia authoring.

The audio studio provides sophisticated multi-track recording in a dedicated recording environment.

The television studio enables students to learn advanced multi-camera production skills in a controlled studio environment.

Camera, audio recording, lighting and related equipment is available for checkout by students enrolled in media production courses.
In addition to the department's dedicated facility, SUNY Cortland's Memorial Library offers access to a variety of computers and multimedia equipment. The interactive reference area, PC lab and Mac lab are available for student use when occupied for class use.

Also located in the library you will find a multimedia studio with Mac and PC workstations. The Mac lab and the multimedia studio both allow high-quality audio and video recording and editing, still image editing, document design, Web page design and CD/DVD authoring.

Scanners and other advanced multimedia applications are available during library hours. Digital still cameras and mini-DV cameras are available for student checkout.